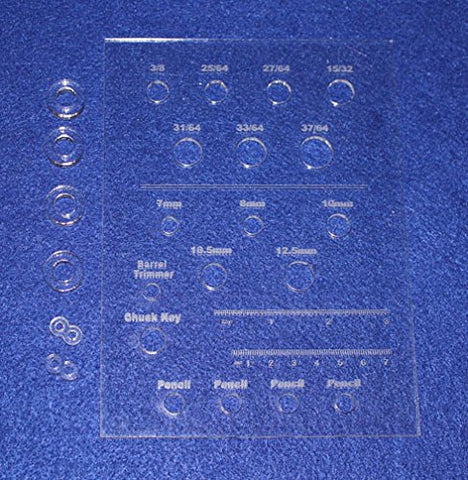 Laser Cut Drill Bit Storage Acrylic Template - Common Pen Turner Sizes 1/8"
This clear acrylic template can be used to create a shop made storage system for frequently used drill bits. I have tried using foam and other means to prevent having bits I use almost daily from lying around. Not only does this wear out fast but the more I used the bits the harder it became to see the size stamped on them. (That I am getting older, I am sure has nothing to do with it!) The template is 5 3/8" x 7 5/16 tall. It includes a spot for your chuck key, pencil and both a small English and Metric ruler for those times when you use a stop collar. You can see the box I built in the pictures. It is just a simple one with a dado to accept the bottom and a rabbit for the template to sit in. ( I included a photo one of the sides so you can see what I mean) I put a piece of felt in the bottom of mine but it is optional. I realize not everyone would want to go to this much trouble for a shop storage box, so I include with the template 4 acrylic donuts that you can hot glue to the bottom of the template and use a piece of scrap and 3/8" dowels to create the bottom. I have included a picture of what it would look like. The price includes the acrylic template, hold downs and the donuts only.
Price includes template, holddowns & donuts only
Ready for your shop built box
Most popular Pen Turner bit size holes are included
Includes hole for barrel trimmer.
Shop made examples not included.