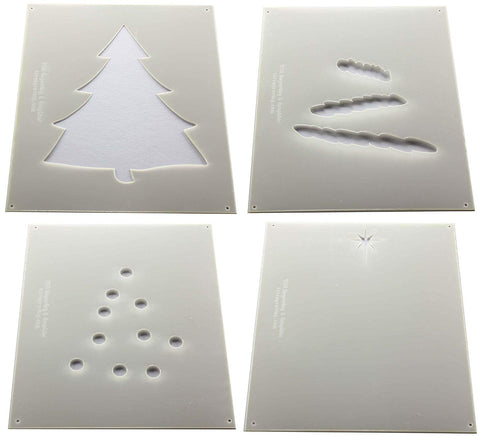 Christmas Tree Stencils 4 part Mylar 4 Pieces of 14 Mil 8" X 10" Holiday - Painting /Crafts/ Template
Laser Cut Mylar and Acrylic Templates for Quilting, Sewing and Stencils.
4 Sheets 8" x 10" Holiday Stencils Mylar - 14 Mils Thick -
4 Piece Set of Christmas Tree Stencils. -- 1st- Place the Tree stencil and paint it. 2nd-add the garland stencil and paint. 3rd-add the ornament stencil and paint. Finally add the Star stencil and paint. Each stencil has holes to line up with. Place on small nails or tape down. Let dry between coats.
Can be ironed with low setting.
Use for airbrushing, stencils, sewing, painting, quilting and more!
---
We Also Recommend