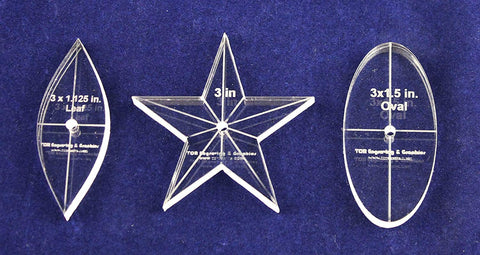 3 Piece Sampler Pack 3/8 Inch Acrylic Template- Quilting - Sewing
Made in the USA!
Laser Cut Clear Acrylic Templates for Quilting
3 Piece Sampler Set of 3/8 Inch Laser Cut Acrylic Templates
You get 1 each - 3" x 1.5" wide Oval, 3" Star, 3" x 1.125" wide Leaf
All have center marking hole and guidelines.
This set does not have the seam allowance lines. Great for Long Arm. Markings are laser engraved for long lasting use.
---
We Also Recommend