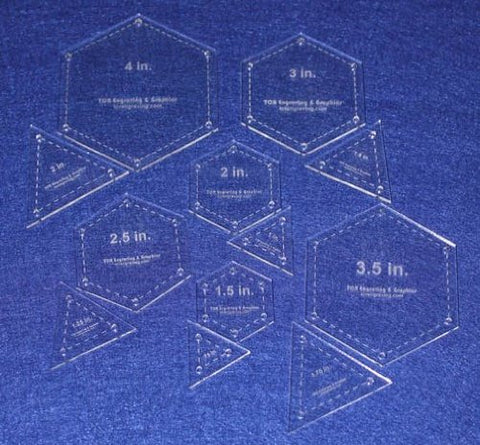 12 Piece Quilt Templates Equilateral Triangles & Hexagon Set 1/8"
12 piece Set. This assortment has many of the most popular Hexagon sizes and half sizes along with the matching equilateral triangles. Hexagon/Equilateral triangle set consists of 1.5", 2", 2.5", 3", 3.5" and 4" Hexagons w/ holes and .75", 1", 1.25", 1.5", 1.75" and 2" Equilateral triangles w/ holes This set does have the seam allowance. This set is 1/8" thick acrylic.
Sizes are Laser Engraved to be Long Lasting
Set does have seam allowance and guideline holes
Hexes 1.5 to 4" - Equilateral .75 -2"
Hexagon Measurements are from top to bottom from the seam allowance lines.
Triangle measurement are side to side on the dotted line.
---
We Also Recommend